Students in the Faculty of Economics Won First Prize in the Go Global Japan Presentation Competition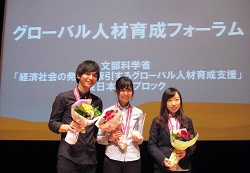 Hitotsubashi University's team "Novelty," consisting of three second-year students from the Faculty of Economics―Kiko Asakawa, Riku Ono and Nana Furuta―delivered a presentation titled "By Bicycle, Bye-Bye Cycle" at the Go Global Japan (GGJ) Regional Forum, held on December 6, 2014.

Eighteen universities from the Second Regional Block (East Japan) of the Project for Promotion of Global Human Resource Development entered the event, with each university selecting one representative team in October 2014. The eight teams which qualified for the final round of the competition gave presentations in English on the theme of development and poverty. The "Novelty" team was highly commended for their visually appealing presentation, as well as both the feasibility and sustainability of their plan. Congratulations!